Evil Genome: Worth Exploring or a Post-Apocalyptic Mess?
TITLE: "Evil Genome"
DEVELOPER: Crystal Depths Studio
PUBLISHER: Crystal Depths Studio
GENRE: Metroidvania Action-RPG
PLATFORM: PC (Steam)
RELEASE DATE: August 7, 2017
PRICE: $14.99 USD
Evil Genome is an action-RPG from Chinese developer Crystal Depths Studio. The game is styled as a "Metroidvania" action-RPG by the developers, and for the most part, this is a fair assessment. The game has a lot of depth and some fun gameplay, but is it ultimately worth your time and the $14.99 asking price?
The game is set in a seemingly post-apocalyptic future, where Lachesis, who is about to rendezvous with a nearby base, has her ship shot down in a sudden missile attack. Waking up at the wreck in the middle of the desert, she seems to be lacking any real memories of who she is or what she was doing and, unfortunately for her, the AI system that accompanies her cannot provide her with any classified (in this case, non-combat) information without Lachesis's memory core being restored. From this beginning, it's all about exploration and combat while trying to figure out what the heck is actually going on.
Gameplay is presented with horizontal movement in a 3D playing field. The graphics are for the most part well-developed and provide a lot of depth for the environments while there are plenty of things for the player to do in the foreground. Various items and upgrades can be found in chests and crates hidden (or not hidden) throughout the environment and, as you might expect, be looted from defeated enemies. Like any good action-RPG, there is an experience system that provides players with a skill tree to progress through each time they level up, giving them the ability to customize Lachesis's play style to their own personal preferences and strengths. Meanwhile, the game gives players a Metroidvania style map that updates as they explore, and players will have various main missions and side-quests they can complete as they go.
While I really wanted to enjoy Evil Genome, I found that it was ultimately held back on several fronts.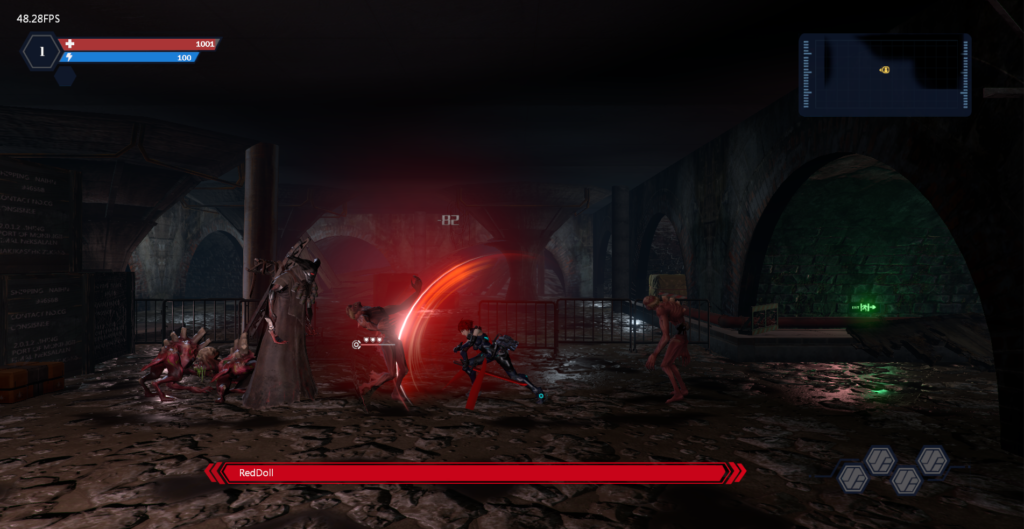 For starters, while I do recognize that the game was developed by a Chinese studio (presumably for whom English was not their first language), the game's English translation is rife with spelling and grammatical errors. What's worse, the grammar errors actually spill over into the game's spoken, voice-acted dialogue, making it extremely awkward at times. The voice work, outside of perhaps the main character, is also exceptionally sub-par throughout the experience. What dialogue is delivered without any grammatical problems is very flat and lacks any sort of emotion. Some characters seem to change their voice and how they speak during the game, sometimes even during the same segment of dialogue! Another problem with the grammar flaws is that they also make the menus rather difficult to deal with, sometimes leaving you guessing at what something (such as a skill description) actually means.
There are also quite a few bugs present too. Some of these are benign, such as the screen fading in an odd way while the dialogue is being delivered, but others are a bit more egregious. There are several times when aspects of the environment flicker or otherwise exhibit artifacts, the fact that you seemingly cannot climb or go down a ladder without jumping towards it (which is particularly weird when you want to descend it!), enemies that glitch out and seem to be invulnerable, and also issues with performance. The game suffers some choppiness due to frame-rate issues in a few spots, even while playing on a high-end system with a GTX 1080 Ti. Changing settings like turning off V-Sync seem to do nothing to resolve the issue (and in fact may even make performance even worse!).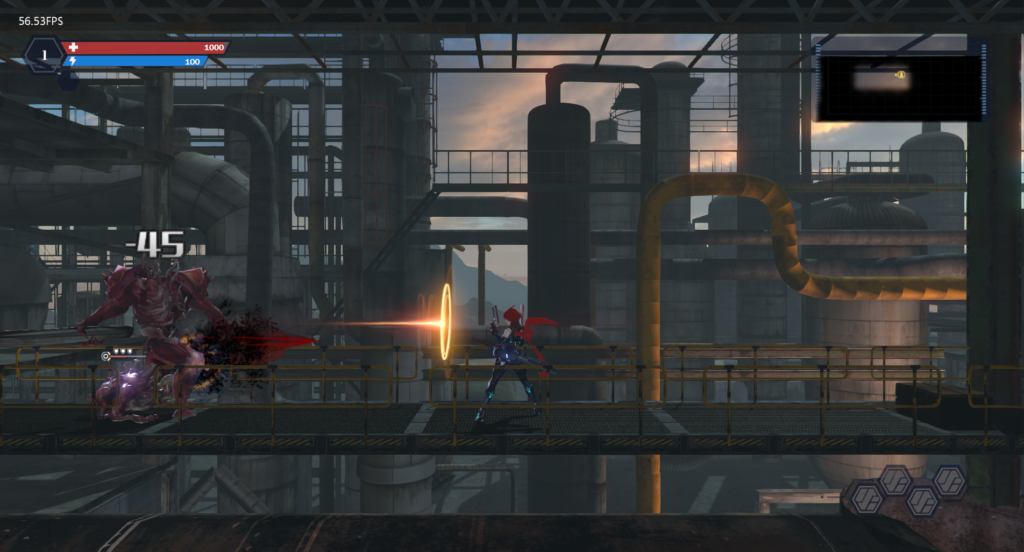 To me, Evil Genome feels like one of those games that was rushed out and needed a lot more polish. It's almost as if we are playing a test build of the game, something that might not even have been ready for Steam's Early Access status. It's frustrating, though, because it feels like this game has a lot of potential and a few things that it's begging us to love about it. The gameplay, honestly, beyond some of the buggy behavior is actually pretty fun, and even though the story is quite vague I do wonder where it's ultimately going. But beyond that, though, I find myself having trouble actually recommending the purchase.
Ultimately, I'd say that Evil Genome is a below-average game that needs a lot of work before I'd say it was worth the investment. Maybe if it was on sale at a deep discount or as part of a larger bundle it would be worth it, but as it stands now I'd recommend passing on it. Hopefully, Crystal Depths will take a look at the criticisms offered by reviewers and Steam users and look into cleaning up the game because, if they did, I think they'd have a fun adventure title on their hands.