Nintendo: DOMINATE THE FASHION WORLD IN STYLE SAVVY: FASHION FORWARD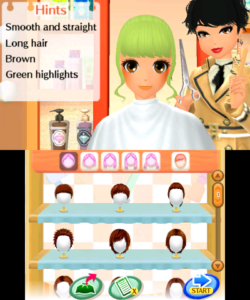 Nintendo's PR team sent out the following
There is so much more to Style Savvy: Fashion Forward than just playing dress up. The refreshingly deep Nintendo 3DS game, which launches on Aug. 19, teaches fashionistas of all ages about creativity, fashion and management skills. The game lets you enjoy an incredibly fun lifestyle, while also learning the ins and outs of the fashion world! By taking on five different professions with their own game mechanics and challenges, you can help customers look and feel glamorous, while also shaping fashion trends all around town. Think you know fashion? Put your sense of style to the test!

"There's a reason fans have fallen in love with the Style Savvy series," said Pierre-Paul Trepanier, Nintendo of Canada's General Manager and Senior Director. "The games are a pleasant surprise for anyone that plays them, and the feeling of nailing your looks and pleasing customers in the game is as satisfying as ever in Style Savvy: Fashion Forward."

Style Savvy: Fashion Forward features five different professions that you can master: boutique manager, designer, hair stylist, makeup artist and model. Each one has unique gameplay and can be switched on the fly. That means you can play the game while focusing on the one job you really want, or mix it up and dip your feet into everything.

As a boutique manager, you recommend clothing based on customers' requests and personal styles. By selecting from an eventual collection of more than 19,000 pieces of clothing and accessories, you can gain your customers' trust, which, in turn, will make them want to purchase more items at your store. But make sure you keep your shop well stocked! Stop by the Exhibition Hall's wholesale outlets to stock up on fashion items that are constantly changing. Play your fashion cards right and everyone will be wearing your clothes and following your style trends.

Taking on the role of designer will push the limits of your creativity. After you receive a request for a new article of clothing, you can enter your shop to create it. By speaking with locals around town, you will discover new patterns to use in your creations. You can even discover what's "hot" by using the awesome in-game Fashion 101 guide to learn about real-world fashion topics like accent colors and clothing styles. Once you perfect your line, you can sell your clothes in the shop or collect commissions to make even more clothes. Will your clothes be the hit of the new season? Or will they end up in the bargain bin? You won't know until you try!

Some customers will enter your shop looking for a chic new haircut or flawless makeover. That's when your hair styling and makeup artist skills come into play. Asking the right questions and finding the right look will determine which style is right for each customer. If you're confident you know what they want, grab your tools and get styling! Customers that love your choice will come back for future appointments and, most importantly, recommend you to more people around town.

Designing all these clothes and inspiring all these new fashion trends is great, but what good is being a fashion mogul if you can't show off your work? By choosing to be a top model, you can model for photo shoots in the Photo Studio and at fashion shows, or even share your styles via the StreetPass feature to showcase some of your best looks. If you have wireless internet access, you can also visit a friend's shop to explore and take pictures, compete in Miiverse contests and swap designs online with friends. You can even personalize a miniature dollhouse that holds showrooms and spare rooms, which you can furnish and decorate with items. These custom dollhouses can also be shared via StreetPass.

A wide variety of different amiibo figures like Mario, Peach, Rosalina, Samus and Isabelle can also be used in the game. Each different character provides a new, exclusive clothing item or accessory related to that character. For example, tap the Kirby amiibo while playing to get a stylish (and adorable) pink Kirby purse. Discovering the fashion items that each amiibo provides and putting them to good use is a big part of the fun.
Source: Nintendo PR
This is an interesting looking game from Nintendo and we hope to cover it more in the future.