Nintendo Financial Results Briefing for Oct-March 2018
Nintendo has released their financial information again detailing how they see the company working for the past six months. Nintendo is always very good about releasing this and letting anyone who wishes to see it, the ability to. Within this document, you find out all of the positives and negatives of sales.
Nintendo has had an amazing year and it is clear they know this. This document shows off the selling power of Nintendo's amazing systems and games, with honestly more good news than bad.
The mobile market is doing quite well for them, as freemium games are really working. They have chosen great titles and with the coming introduction of Animal Crossing Pocket Camp, there will even be more room for growth.
The 3DS market has continued to grow and will do so as long as the system is alive. With an already robust line up of games, the continued increasing selection will keep it going. There will be many more games released for the system for the next two years and that is clearly a good thing.
Nintendo is also aware of the consumers need to buy the NES and SNES classic systems and is restarting production in 2018! This should allow other people who didn't get the system to be able to purchase it.
The Switch is selling amazingly and now that the first Holiday season is upon them, Nintendo is ramping up production. The system has sold a lot but this Holiday will see the chance for the most sales.
There will be Xenoblade Chronicles 2 in December which is guaranteed to sell systems. Plus Breath of the Wild is getting its final DLC pack as well the amiibo of the four champions. With Super Mario Odyssey in play, Nintendo hopes to sell even more systems.
The last big thing is that now over 300 companies are making games for the Nintendo Switch and that is amazing. Just earlier this year the number was around 70.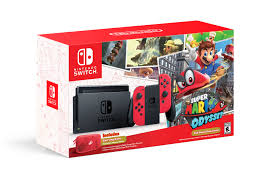 It is clear that Nintendo is happy with how things are playing out and will continue to work to make next year even better!